The other night I was looking for a distraction; and I decided to give Open Combat a go as I've had these rules for a long time, but haven't had a chance actually try them out. I got the rules for historical and low fantasy skirmishes, so I decided to use my LOTR stuff as I haven't used them in awhile. I think of LOTR as low fantasy, especially the books. Wizards aren't running around throwing lightening bolts everywhere and an undead wraith on a flying lizard is a really big deal and not ho-hum.
My thoughts on Warband construction:
The way of stating up your warband is OC is really simple and I found this refreshing and..somewhat troublesome. Because nothing is set and there are no boundaries, it can be hard to nail down what are appropriate values for what you are trying to represent. For example; I wanted a figure to be able to withstand one round of "average" combat (taking 1 or 2 hits) but be vulnerable after that. So I decided on 3 for FORT . other values I just picked because they looked right to me: MIN 2 and SPD 4. In regards to SPD; 4 seemed right as it made it that a model couldn't engage in one activation in the 'confrontation' set up and if something was slower it could be 3 or even 2. These then became my average humanoid stats.
In regards to ATK and DEF; instead of picking values I thought more about what dice I wanted to have in my combats. I wanted most attacks to be 2d6, attacks against heavy armored foes to be 1d6; heroes and monsters to use 3d6 versus henchmen but 2d6 versus each other… so these number all just had to interact to produce the right combats. It took some time, but overall I felt it was a fun process. And came out pretty good; the good forces lead by Faramir and his buddy Damrod had a mix of armored warriors and light rangers and the evil forces has some orcs with a somewhat dangerous Uruk and lead by a nasty orc named Naarl and a Troll. The troll throws 3 dice versus everyone and gets 1 back at him (unless folks gang up). However I could do this because I was making both warbands. If I had just made one in isolation then there could be balance problems.
Anyway, here are the stats; I also made large warbands bc my ultimate goal is to use this as a 4 player convention game; and to me skirmish level is around 10 models. I then played with some abilities until both warbands were 255 points. Almost double the amount recommended.
Good:
Ranger: SPD 4 ATK 5 DEF 4 FORT 3 MIN 2 Bow, Spear/HW (as modeled) x 5 models
Damrod: SPD 4 ATK 6 DEF 4 FORT 4 MN 2 Bow, sword (HW), Sure Shot – is an extra good shot , counts as crossbow
Minas Tirrith Warrior: SPD 3 ATK 5 DEF 6 FORT 3 MIN 2 Shield, sword/spear as modeled, x 5 models
Faramir (leader) SPD 3 ATK 6 DEF 6 FORT 4 MIN 3 shield, sword (HW), Inspire, and Focused Blow
Evil:
Orc SPD 4 ATK 5 DEF 4 FORT 3 MIN 2 sheild, Sword (HW), x 4
Orc SPD 4 ATK 5 DEF 4 FORT 3 MIN 2 spear / halberd (as modeled) x 2
Orc SPD 4 ATK 5 DEF 3 FORT 3 MIN 2 Bow, HW, x 2
Uruk: SPD 4 ATK 7 DEF 5 FORT 3 MIN 2 Furious assult, HW
Naarl (leader) SPD 4 ATK 7 DEF 5 FORT 4 MIN 2 shield, HW, Shield bash
Troll SPD 4 ATK 13 DEF 6 FORT 7 MIN 3 Group fighter (counts as double handed weapon), intimidate
Game was set up; on a 3.5 x 3.5 table just because that was the size of my kitchen table, in the future, slightly smaller would be better. Because I dislike bows with lazer scopes on them (I shoot through this doorway and through that hole in the wall to hit the model on the other side), I added 1 abstraction; shooting through a ruin required a obscured target roll and provided hard cover (there were stone ruins after all). Shooting from a ruin was normal rules and depended on line of sight.
Here is the board set up: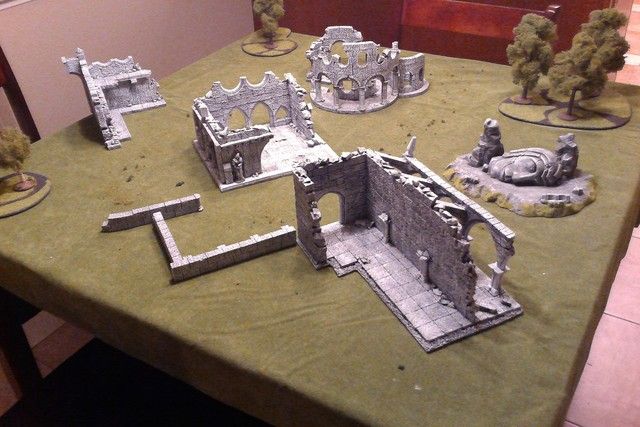 Other side: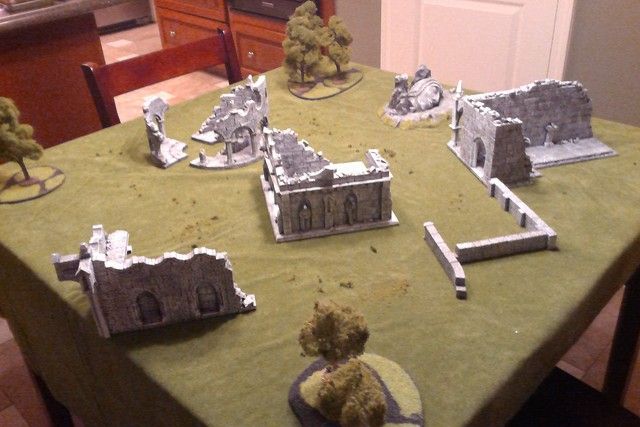 I rolled for scenario and deployment and got the Open combat scenario and corner deployment. In the beginning there were a lot of "with me" moves just to gets things going at a good pace. The good side had 5 models that could shoot, so they did a lot of it.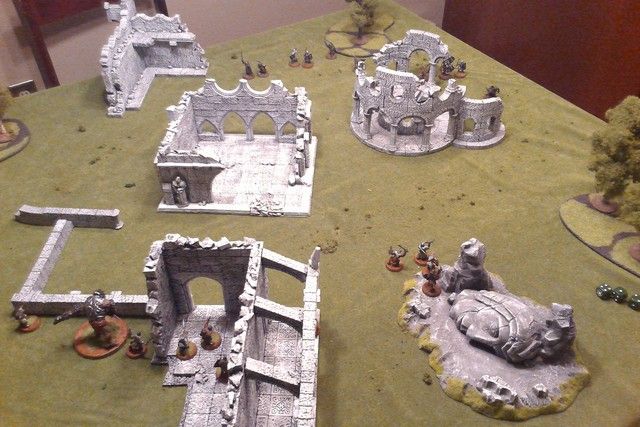 One orc finds a piece of hazardous terrain, and ends up prone, costing the evil side initiative and letting the good get off more shots..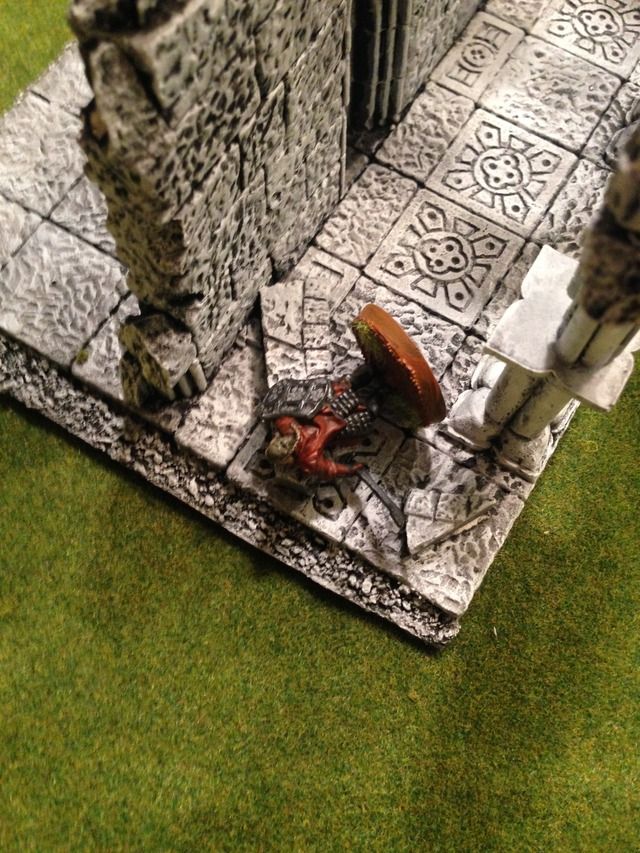 Faramir leads some men toward the tower ruins, but an ranger rolls a 1 for his obscured shot, loosing initiative.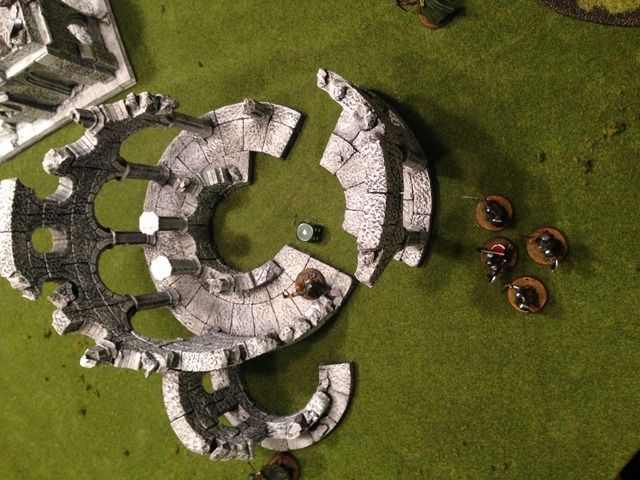 The leader Naarl is hit by an arrow, so he courageously hides behind some fellow orcs..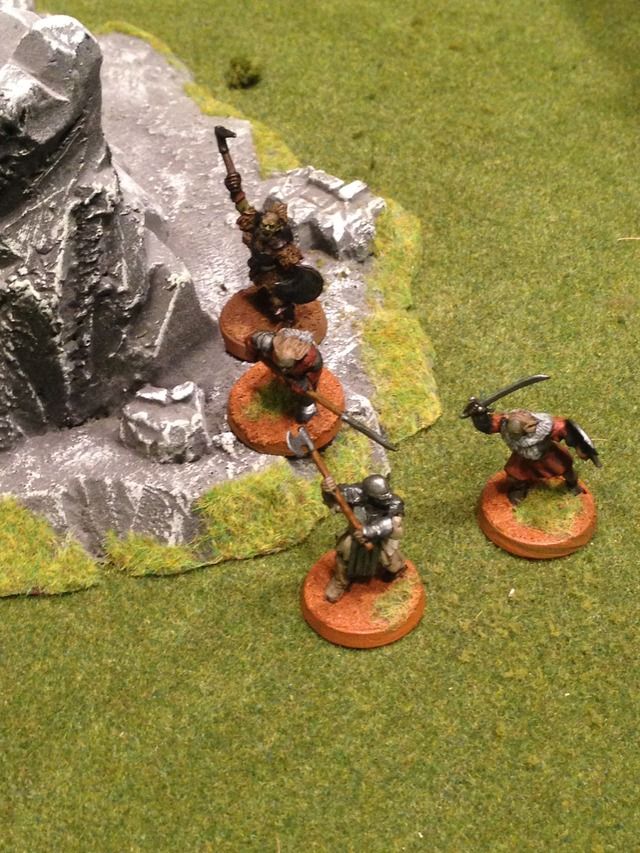 This is bad news for the orc in front of him…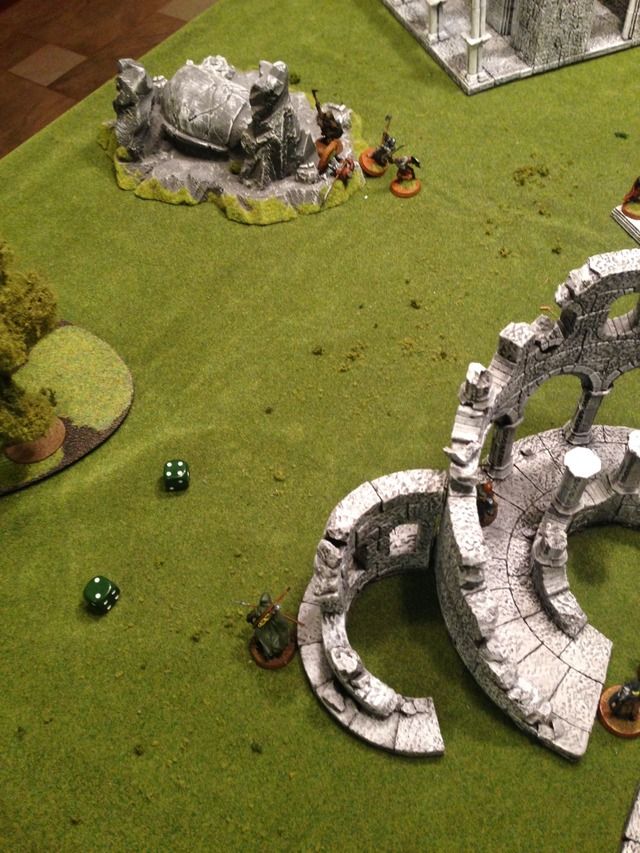 Actually what happened is that the orc in front was hit with a 'knock back' result but did not have the room retreat as Naarl was right behind him. Turns out that this mechanic would come into play an awful lot but is TONS of fun, and a great tactical set up in melee.
As what happens when one side is more shooty, the other side has to run across the board to get them…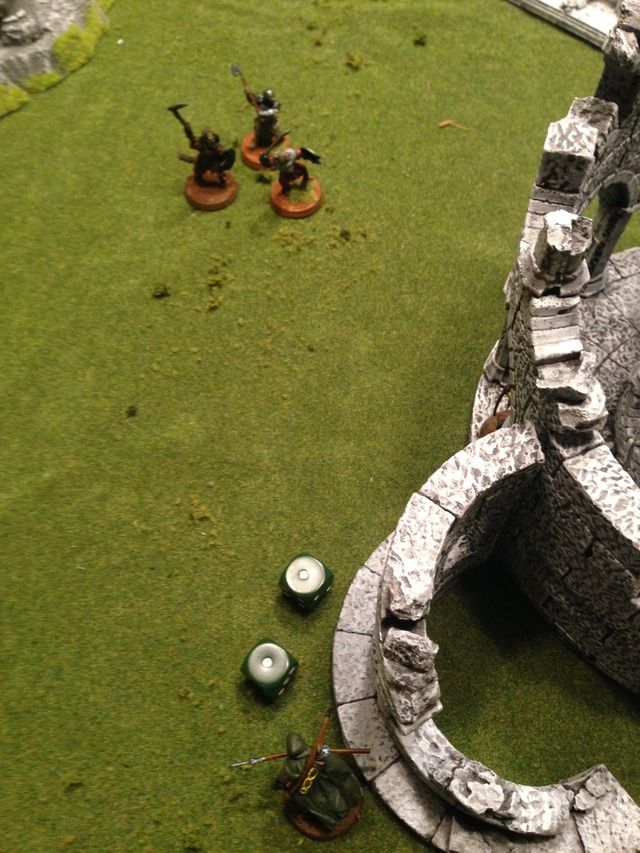 Evil closes in on the ruins..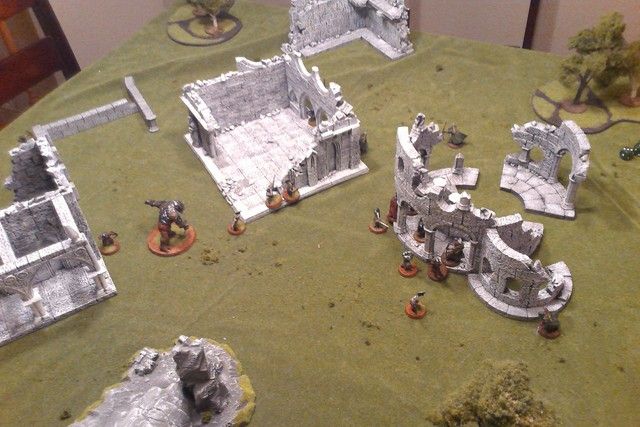 The Uruk decides to close with Faramir in the ruins.. only to have a Minas Tirrith (MT) warrior close behind him..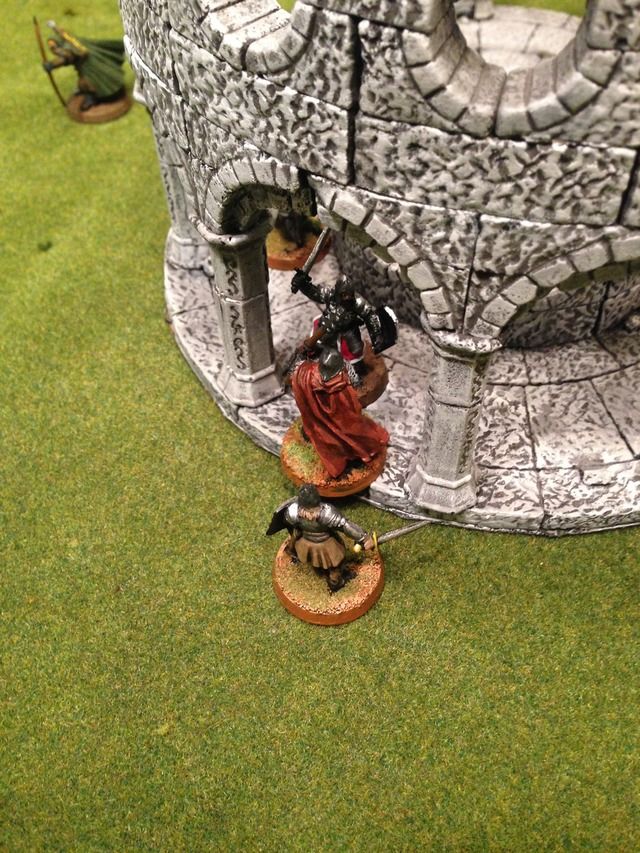 However the good loose initiative and the uruk turns around and beats back the MT warrior
Who is ganged up on by other orcs, making use of the tactic of the tactic of blocking the knock back..and slain..
And the fight rages around the tower, with the orcs now loosing initiative..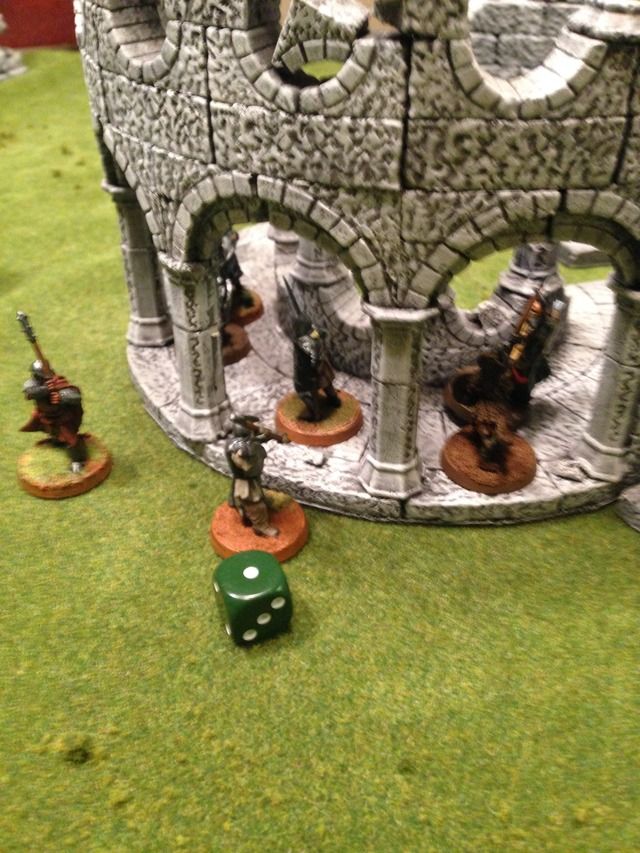 It's hard to describe fights blow by blow, and honestly boring to read, so now I'll focus on some highlights. But let me say, that open combat provides a very fun swirling melee where shields, weapons, and facing is important.
Nearby, the troll who has rolling on the monster / mount table every turn and sometimes only got one action, finally closes with two MT warriors using 2 actions, confident that it will be able to attack next turn. Tactical choice! The MT warriors only throw 1d6 for each attack, so they could each throw 2 for a total of 4d6 one at a time, or use a group attack to roll two at once. I thought 'no brainer' 4d6 is more than 2…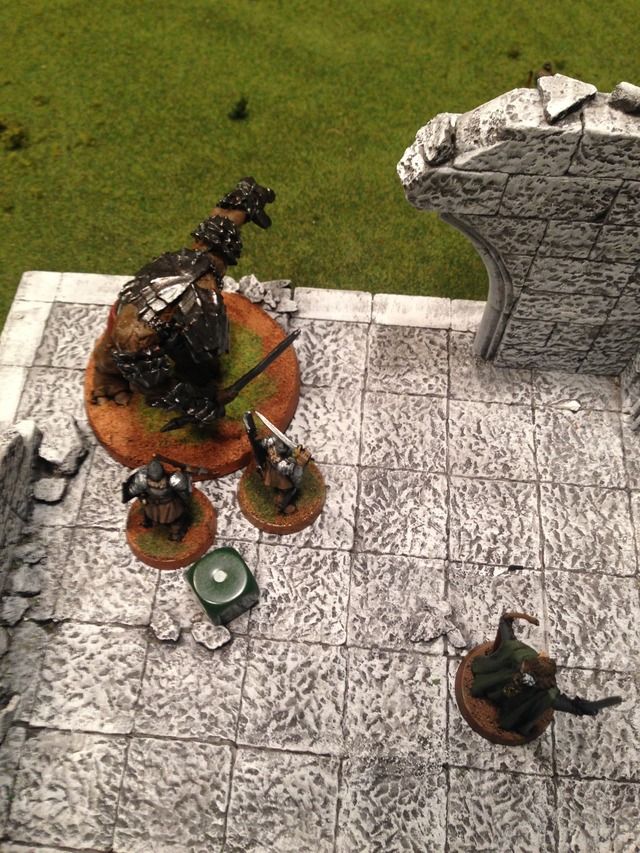 On the first attack a 1 is rolled costing the good side initiative!
The troll swings back, counting as a double handed weapon, and scores a Major hit and a knock back, scooting the MT warriors back 4".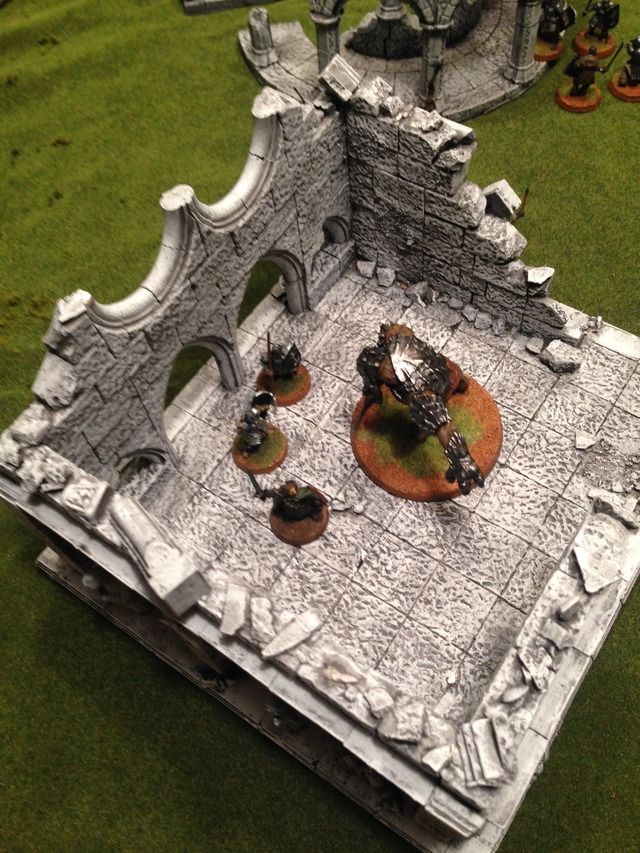 Meanwhile Faramir charges and slays the Uruk
Unfortunately, Naarl works hiw way behind Faramir as he is fighting an orc. He is surrounded! Next turn Faramir plans to first attack the orc and then spin around and attack Naarl, but rolls a double 1 loosing initiative! And then the evil presence of the ring must have been close, because Naarl rolls 3d6 because he is attacking from behind, and gets a fantastic result…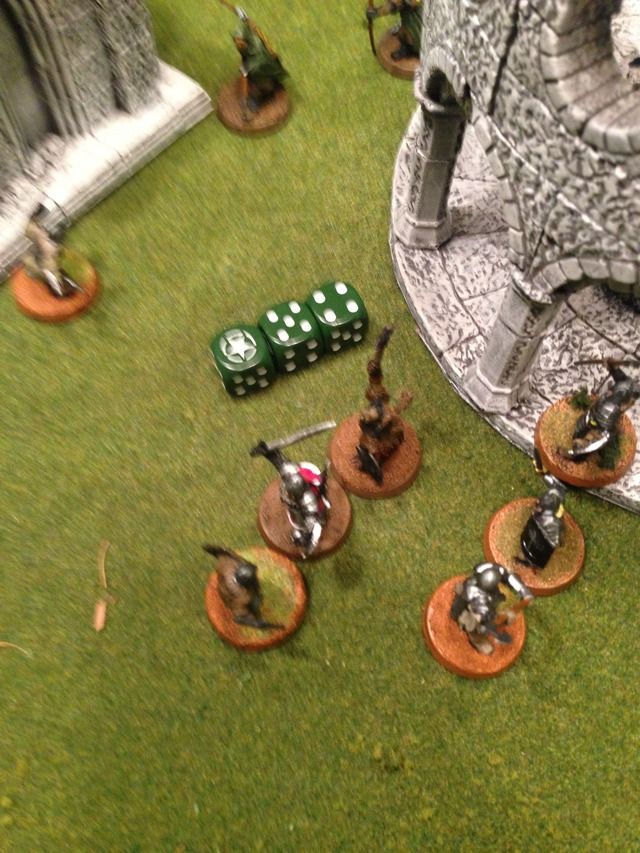 Major hit = 2 wounds because the knock back is blocked by the orc in front, minor hit is one more wound, and knock back result is yet another wound totaling 4, killing Faramir…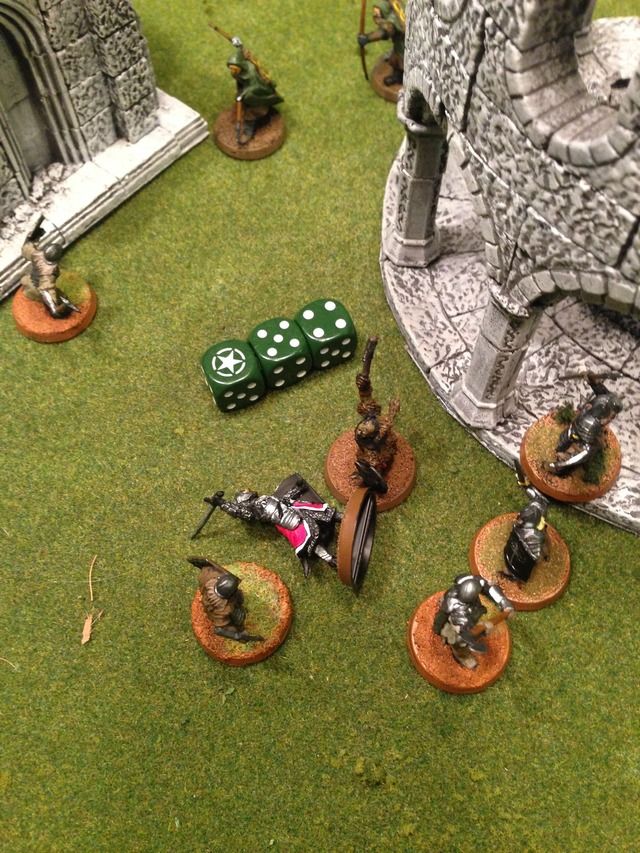 Closing shot: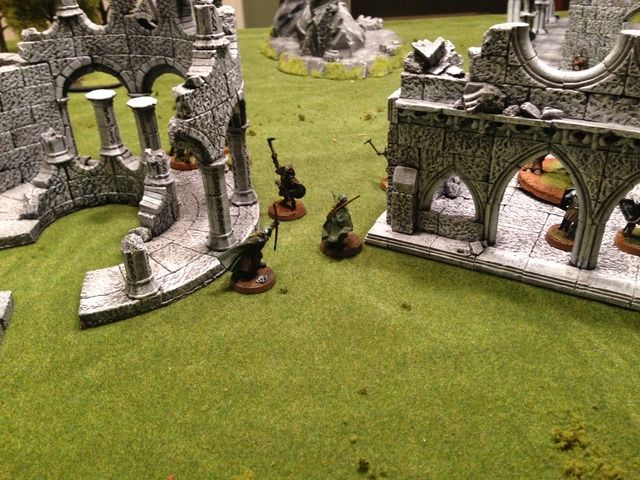 Naarl goes looking for more victims…
The battle would of continued as both warbands were not that close to breaking, actually I think evil was worse off, but it was getting late so I decided to pack it in. the game only took longer because: I was using large warbands, I had a large table, and the good side was more shooty so the evil had to cross the board to get to them…things I would change next time.. otherwise the game played very quickly and smooth.
I really like the game, especially when the warbands got into melee, and thought it really had the- man- to- man –swirling- mess-a-blow-can-come-from-anywhere feel to it. I was also surprised about how many times initiative turned over due to a roll of 1. Really makes you think when in your activation sequence you want to risk rolling just 1 die, and in combat the ability to roll more dice and choose one is great. The challenging part of the game is the warband construction, but probably because it's not as simple as pay X amount of points per Y model plus and minus some abilities. Just takes a little more time. for next time I will tweek the warbands some and bring it to the club and try it with 4 players.