Been doing countless of warbands but here are two of them recently used. Our "meta" rely a lot on speed as we believe this is the best way to combat the very dangerous taunt ability. When SPD increase the MND can go down safely. The marksman ability is a must and still there are some testing back and forth with marksman and/or sharp eyed vs ATK value.
The second warband is quite different, no range which is quite rare (bow in the rear less than 2" FTW!!) but very strong with the shield and resolute ability. Models similar to the bone rat always accompany a bad ass like the troll. The 2h-weapon together with the "monster/mount" ability is a new combo -with so far shaky result.
What do you say? What is your favorite combos?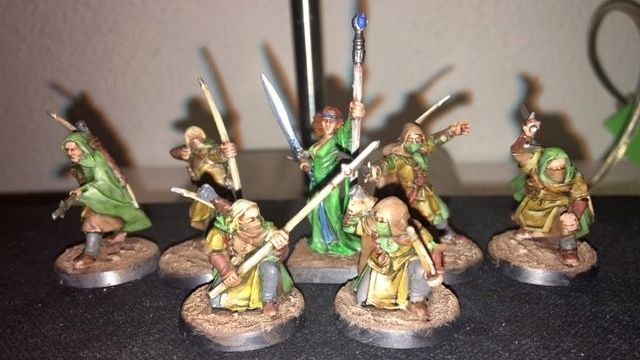 Code: Select all
Warband profiles     Name:      Rogues                               Renown level       150                
                                                                      Model count       7                  
        Name           Renown  SPD   ATK   DEF    FOR   MIN   Weapon      Skills/Abilities  
        Lady             30     8     1     8      6     3    Hand Weapon Leader       
Notes                                                                     Resolute      
                                                                          Evade       
                                                                          Feint       
 
        Name           Renown  SPD   ATK   DEF    FOR   MIN   Weapon      Skills/Abilities  
  On knee with bow       20     8     4     1      3     1    Bow           Marksman      
Notes                                                         Hand Weapon                          
  
        Name           Renown  SPD   ATK   DEF    FOR   MIN   Weapon      Skills/Abilities  
  Green with spear       20     8     4     1      3     1    Bow           Marksman      
Notes                                                         Spear                             
  
        Name           Renown  SPD   ATK   DEF    FOR   MIN   Weapon      Skills/Abilities  
   Green with bow        20     8     4     1      3     1    Bow           Marksman      
Notes                                                         Hand Weapon                          
 
        Name           Renown  SPD   ATK   DEF    FOR   MIN   Weapon      Skills/Abilities  
  Green with sword       20     8     4     1      3     1    Bow           Marksman      
Notes                                                         Hand Weapon                          
  
        Name           Renown  SPD   ATK   DEF    FOR   MIN   Weapon      Skills/Abilities  
 On knee with spear      20     8     4     1      3     1    Bow           Marksman      
Notes                                                         Spear                             
  
        Name           Renown  SPD   ATK   DEF    FOR   MIN   Weapon      Skills/Abilities  
  Brown with sword       20     8     4     1      3     1    Bow           Marksman      
Notes                                                         Hand Weapon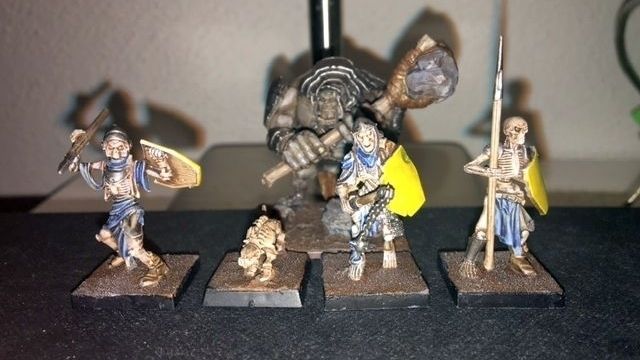 Code: Select all
Warband profiles     Name:      Undead                               Renown level       120   
                                                                      Model count       5      
        Name       Renown    SPD   ATK   DEF    FOR   MIN    Weapon           Skills/Abilities
     Cap Undead      21       6     4     3      4     1     Shield                Leader
Notes                                                        Hand Weapon           Resolute
 
        Name       Renown    SPD   ATK   DEF    FOR   MIN    Weapon           Skills/Abilities
   Throwing spear    21       6     4     3      4     1     Shield               Resolute
Notes                                                        Spear
  
        Name       Renown    SPD   ATK   DEF    FOR   MIN    Weapon           Skills/Abilities
   Standing spear    21       6     4     3      4     1     Spear               Resolute
Notes                                                        Shield
  
        Name       Renown    SPD   ATK   DEF    FOR   MIN    Weapon           Skills/Abilities
        Troll        30       6     7     7      7     1     Double-handed Weapon  Resolute
Notes : "Monster"/"Mount" rule                                                                                      

        Name       Renown    SPD   ATK   DEF    FOR   MIN    Weapon           Skills/Abilities
      Bone rat       27       12    1     5      4     1     Fists                Nimble
Notes                                                                             Surefooted
                                                                                  Resolute
                                                                                  Evade